Esta's White River Retreat
Esta's White River Retreat is a beautiful private riverfront compound, on the scenic White River near Mountain View, in the Arkansas Ozarks. Called by many a nature lover's paradise it is all that and much more.
The compound consists of 3 beautiful riverfront homes, with a unique inground swimming pool, a large outdoor kitchen, pavallion, boat ramp and beautiful grounds plus a caretaker's home. The property currently hosts church retreats, families and corporations from all parts of the country. The location is a ideal meeting place because of its convenient access, beautiful setting, and recreational options. The White River's clean cold waters, hold several world records for trout. Feeder streams like Wolf Creek Bayou,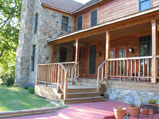 which borders one side of the property has some of the best Bass, Crappie, Catfish, and Walleye fishing you will find anywhere. Bald Eagles, Deer, Raccoon, Armadillos, Beaver, Storks, and other birds and animals abound.

House 1
While definitely country, it comes with lots of luxuries to. Starting with the Ohana (family) home built in 2003 to be the focal house of the compound. It has 6 bedrooms and 6 ½ baths with ever room having beautiful riverfront views. The bathroom fixtures and home furnishings are upscale. The dining area can seat 15-20 people, and the great room has 2 sitting areas  with 4 couches , two around the fireplace, the other a TV area. Two French doors open to a large rear deck, that can accommodate groups up to 50 with wraparound seating, outdoor dining tables, and gorgeous views of the river and pavilion below. A large kitchen is fully equipped and offers great river views for the cooks .

House 2
The next house is referred to as the honeymoon cabin. It is one of the most unique log homes you will ever find. A physician constructed it 20 years ago for his fiancé, and spared no costs to create one of the most intimate homes you will ever enter. It has a master bedroom with a queen bed, a upstairs loft with sitting area and 2 twin beds, a large living room with a fireplace ,two couches, one a sleeper sofa ,and a dining room with a bay window and great river views. It also has a large rear deck that can entertain groups up to 50.

House 3
The third house is our cedar log lodge. It was built in 2001 and constructed from red cedar logs milled locally. You enter the house to the great room whose ceilings soar 20 feet high. A bridge with wood railings span the 22 foot width to connect 2 large upstairs lofts, one with a full bath, that has 14 beds in bunk configurations and creates lots of sleeping area  for large families. Downstairs the great room has beautiful leather furniture including a sleeper sofa, and fireplace, and French doors that open to the rear deck. The master bedroom is large with a walk-in closet, large bath and laundry area ,king size bed and French doors that also opens to the deck. Another guest room is downstairs with a full bath. The house comes complete with a full modern kitchen. The configuration of this house increases the sleeping capacity of the compound up to 45 if needed. Accomadations  for groups of 80 plus is available With another share in Esta's II.

Ammenities
The compound has a outdoor basketball court, horseshoes, and a sand volleyball court. Combine that with canoeing, fishing, hiking, and lots of other nearby activities, and you have the ingredients for a lifetime of family memories.